Imagine if you could easily find inexpensive insurance that you could trust – where you were covered for everything important and had flexibility and confidence that making a claim meant getting paid easily?
These 5 tips will show you how to find long-term backpacker travel insurance for residents of the UK (including backpackers of other countries).
It will cover both UK citizens as well as those from other countries who are currently residing in the UK. If you are currently in the country on a working holiday visa, this includes you!
However, if you are simply planning to visit the UK on a tourist visa, we also cover residents of Australia. (more to follow)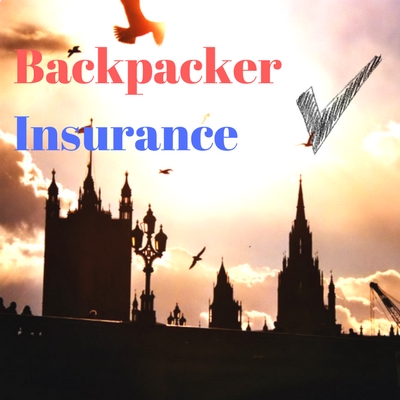 Just a quick  tube ride will reveal there are 100s of insurance options for travel, BUT there aren't many that focus on the needs of backpackers and this means you can easily pay too much and not be covered for what you need.
This is because most insurance is focused on shorter term travel for Brits on annual holidays – and not the needs of backpackers which are completely different.
Finding the best backpacker travel insurance starts with knowing who the good ones are and then deciding who is the best for your needs. Scroll down to see the best and a comparison.
What Makes A Great Backpacker Travel Insurance Policy
Extend and buy plans while travelling. (many policies can only be extended in large blocks of time or not at all)
Different levels of activity cover. (many policies will not cover you for "dangerous activities" such as bushwalking)
High-value item cover. (ensure you get covered for the valuables you have and not pay for the ones you don't)
Organize everything online. (incredibly many insurance policies seem to hail from the era of fax machines and paper duplicates – we can only imagine what would happen if a claim was required)
Work cover (great for working holiday visas).
As you can see there are some quite specific needs of backpackers that are not covered by most policies very well if at all. Read on to discover how you can save hundreds and get the coverage that makes sense.
Whether you are travelling to Europe or further afield, you must still make sure you have adequate travel insurance cover.
What Are The Differences Between Backpackers Travel Insurance And Regular Travel Insurance?
This is an excellent question and one that you need to fully understand before taking out your insurance.
Of course, there will still be some differences between individual insurance providers and policies.
Length Of Policy
The first major difference is the length of the policy you can take out.
Companies that offer backpackers insurance will usually offer the option to take out a plan lasting up to 18-months or two years. Meanwhile, regular travel insurance companies will be much less than this.
For example, Marks and Spencer travel insurance offer single trip insurance of up to 120 days or annual multi-trip insurance that covers an unlimited number of trips over a year, however, each individual trip can only be up to 30 days.
While these options will be perfect for some, if you are planning to travel long-term, it is unlikely to be enough.
Ability To Buy/Extend Your Insurance Policy While Abroad
Once you have set off on your trip, it can be very hard to find a company that will insure you. Most regular travel insurance companies and even some backpackers insurance companies won't go near you if you have already left your home country.
This can be absolutely crucial for a backpacking trip in either of the following cases:
You forgot to buy insurance before you left.
Simply forgetting to buy insurance does happen and if you are planning to travel for a long time you shouldn't be forced to go without insurance.
Of course, you will only be covered from when you buy the insurance so it can't be used to cover you if something has already gone wrong on your trip.
You need insurance but aren't a permanent resident of the country you are living in.
Many regular travel insurance companies won't cover people who aren't permanent residents of the country they are living in. If this applies to you, it can be good to choose a backpacker insurance policy.
In instances where you are unsure if you are a permanent resident or not, it can be a good idea to contact the company directly to ensure no mistakes are made with your plan.
You have decided to extend your trip and you therefore also need to extend your cover.
Backpacking trips are often more flexible than regular trips.
However, if you decide to extend your trip you will still need travel insurance. Many backpacker insurance companies understand this need and allow you to extend the length of your cover.
You need cover for a trip after your working holiday (temporary residence) visa runs out.
If you are on a visa that gives you temporary residence in the UK, you may decide to end your trip with some long-term travel.
However, in this case, you will find it hard to get insurance from a regular travel insurance company in the UK (because you will no longer be a resident) or your home company (because you are already abroad).
In this case, backpackers insurance can be a real life-line.
Flexibility In Activities Covered
When backpacking, you are likely going to want to try some activities that you wouldn't normally take part in. This can include some things like trekking, skydiving, or bungee jumping that may not be covered by a regular travel insurance policy.
Of course, even in the case of backpacking policies, you will often have to pay more to get coverage in some of these activities. Because of this, you must check what is covered before taking out a policy.
Cover For Work
As well as a higher number of activities, some backpacker policies also cover you for work while abroad. This is especially worth checking as if you plan to work while abroad you don't want to be without coverage for something you are likely to spend a lot of your time doing!
What Else Should I Look For In A Policy?
While the above features make a long-term travel insurance policy stand out from a regular travel policy, there are still some other things that you should look for when taking out a policy.
Price
Price is an obvious one but nonetheless important. If you are on a tight budget then you will likely want to save as much money as possible on your policy. Luckily many long-term travel policies are very competitive.
High-Value Items
If you are planning to take expensive items like a laptop, camera, or phone away with you, you should make sure that these items are covered.
You will often have to specify the items before you leave but doing so could save you money if anything goes wrong.
What To Check Before Taking Out Insurance?
Due to the differences in policy, it is important that you get a good idea of what your priorities are when it comes to getting coverage. Here are some you should check before taking out insurance:
Am I Really Going To Be Covered?
This is arguably the most important thing to check as it would be easy to buy a policy that doesn't actually cover you.
Some policies only cover permanent residents, others won't cover you once you have set off, and some require you to have been in the UK for at least six months out of the last year.
If you think there is anything about your situation that might mean you aren't covered, don't ignore it, check!
2. What Type Of Activities WIll I Be Doing?
You won't be covered for every activity out there. If you are planning to play sports, take part in adventure activities, go trekking, do extreme sports, work, etc. then you should ensure that your plan has you covered.
3. Do I Have Any High-Value Items?
If you are planning on taking any high-value items it is pretty likely that you will need extra coverage. Be sure to check your policy if this affects you. Also worth checking is whether or not you will have to pay any excess if you make a claim.
4. Are You Likely To Extend Your Trip?
If you think there is a chance you will extend your trip while away, be sure to choose a policy that can be extended too!
Backpacker Insurance Providers For UK Residents
| | | | | | |
| --- | --- | --- | --- | --- | --- |
| Provider | Activities | Cover for work | Maximum trip length/extend while travelling | Add-ons for expensive items | Annual price guide (see note below)* |
| | Four levels of cover to check from. They have a clear list of what is on each level on their website. | Yes – although different types of work require a different activity level. | You can extend a policy for a maximum of 12 months although it is also possible to buy a new policy after this. | Yes – List the items when you apply for your plan. | £250 – £350 |
| Go Walkabout | Four different activity packs available. | Yes – ensure you choose the correct policy. | Up to two years. Not possible to extend while away. You must meet certain residency requirements and start/end your trip in the UK. | £500, £1000, or £1500 extension available | £100 – £200 |
| STA Travel | Over 100 adventure activities covered depending on the coverage you choose. | Working holiday trips are covered but you should check that the work you plan to do is covered. | Up to 24 months. Extend your policy while away. | Cover of either £100, £400, or £600 depending on your level of coverage. | £250 – £350 |
| Insure And Go | Extra activity add ons available. | No mention on website – contact them for more info. | Up to 18 months. One extension possible. | Yes – List each item when you apply for your plan. | £200 – £300 |
* A note on the annual price. This will vary depending on a factors including where you are from, where you are going, and your coverage. The annual price listed is based on a search for a 25-year-old from the UK going to Thailand for a year with the most basic cover available and is just a guide.
So, Which Provider Should I Choose?
If you look at the table above, you can see that each plan has some different plus and minus points.
However, this table is really just a basic guide and you should really get a few quotes for yourself based on your specific needs before you make a final decision.
As mentioned in the note above, the final price and what is actually covered varies a lot so the cheapest basic policy from one provider may not cover as much as a more expensive yet still basic policy from a different provider.
In terms of offering everything that you could need, it is hard to look past World Nomads as the best backpacker insurance plan.
In fact, despite many of the above provides offering the option to extend your trip, if you are looking for a policy while already abroad then World Nomads may even be your only option.
As well as this, they have many other benefits that make them a great choice including:
Easily manage your plan and even make a claim entirely online.
The option to take out a new policy abroad essentially means you can be covered no matter how long your trip.
Really easy to use website.
Ability to give a charitable donation when you take out a policy.
Work and even manual labor is covered while abroad.
Of course, this doesn't mean that they will necessarily be the best option for your trip, simply that they are a great option in general!
Really, you should be sure to research the policies, get a few different quotes, and then choose the best insurance policy for your needs!