Sorry if I seem negative, but personally I think most insurance companies are in the business of being profitable companies rather than awesome ones.
In this review, I want to unwrap World Nomads – So you can answer the question – Is it right for YOU?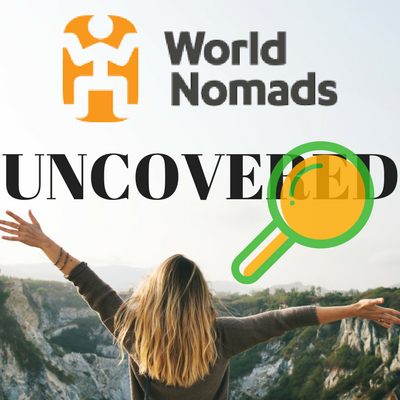 According to their website, World Nomads are a travel insurance company that are proud of the fact that they were started by travellers and that their policies are "designed for travel."
Let me cut to the chase – from everything I have seen and experienced this attitude spills into the service and cover they provide. They also provide travel tips for many different countries and travel scholarships for things such as travel photography and writing.
This World Nomads review will take a look at why they come so highly recommended, as well as take a look at how to use their service.
I understand time might be short for you so I  will simply suggest you use the following widget to get a quote.
For others I understand perfectly you want to know more including any dirt we can dig up.
So read on – It could the best 7 minutes you spend!
Why Is World Nomads Perfect For Backpackers And Long-Term Travellers?
World Nomads offer an insurance policy that has been specifically designed for long-term travellers. This means they offer a number of useful benefits that your average travel insurance provider may not offer. These include:
Buy and extend your policy while abroad.
Make a claim on your policy online while abroad.
High flexibility in the number of activities covered.
Cover for work while abroad.
These features are on top of all the usual things that you would expect to get from a travel insurance company.
In fact, if you are looking for a travel insurance provider that will allow you to take out a policy once you have left your home country, you will struggle to find one other than World Nomads. This is an incredibly rare thing for a travel insurance provider to offer!
What Do World Nomads Offer?
World Nomads offer two different coverage levels; Standard and Explorer, which is designed to make it easier.
Explorer has the highest level of coverage and, as such, is a little more expensive. Both levels will provide you with cover for the following categories (and more) although the level of coverage might be different.
If you are having troubles working out Standard V Explorer we wrote a short helpful article.
Medical Expenses Coverage
This is probably the most important thing for a travel insurance policy to have. Luckily, World Nomads offer good medical coverage in a variety of categories.
One thing to remember, though, is that the specifics of what they offer will depend on your country of residence and the plan you choose.
Things you can be covered for include medical expenses in the country you are visiting, repatriation costs, and even dental expenses!
Trip Cancellation Costs
Trip cancellation coverage is super useful and also a good reason to buy your insurance plan early. Things covered include flights and other transportation costs, accommodation costs, and certain activities if you have already booked them.
It is worth noting, however, that, as is standard practise, cancellation costs will only be paid out in certain situations. For example, if you suddenly fall ill or a natural disaster disrupts your trip. You are unlikely to be covered if you simply decide not to make your trip.
Make sure you thoroughly read your plan to be sure about what is and isn't covered.
Theft Or Damage To Personal Items
This will cover you if your personal items go missing in a range of different scenarios. Items covered include electronic devices, your passport, cash, and other personal items.
A useful thing that World Nomads does is provide a checklist of when certain items are covered and when they are not. It is definitely worth taking a look at before you leave on your trip so you can see what kind of care you are expected to take to look after your items.
If you have a particularly expensive item that you need cover for, be sure to list it when you take out your plan as you may need extra coverage for high-value items.
As well as your standard personal items cover, World Nomads will even help you out if your airline loses your baggage for more than 12 hours.
Additional Activity Coverage
World Nomads offer coverage for a variety of activities that you may not be covered for with a normal travel insurance plan. This includes things such as work, trekking, or some adventure sports.
Before you sign up to your plan, World Nomads will prompt you to search for any activities that you will be taking part in during your trip so that you can be sure you are covered.
How To Sign Up For A World Nomads Plan?
Signing up for a World Nomads plan is super simple due to how easy their website is to use but there are few help points we can offer.
Quick Overview
1. Enter Your Trip Details On The World Nomads Home Page.
The first step is to simply enter your trip details on the World Nomads homepage.
This includes:
Where you are going (possible to select multiple countries).
Your country of residence.
The dates of your trip
Your age
You will then have to press the "Get a Price" button to be taken to the page with a quote for the overall cost of your insurance.
Top Tip: If you are living in a country that isn't your home country, be careful about what you put down as your country of residence. If you aren't 100% sure about what to select here they offer further details on their website.
2. Choose The Plan That Best Suits Your Needs
Next, you will be given a choice between the Standard Plan, or the slightly more expensive Explorer Plan.
On this page, World Nomads include a detailed list of what is covered by each plan so you can easily see the differences between the two. The price you will see on each plan also includes a small donation to a charity.
Top Tip: While you will be covered for the amount you can see on this page, you may be expected to pay an excess when you make certain claims. This will often be around $100. Be sure to check the details on this page so you know what will be expected of you.
3. Add High-Value Items And Check Your Activities
On the next page, you will be given the option to add high-value items to your policy. Examples of high-value items could include expensive electrical equipment, personal items, or sports gear.
You should list every high-value item you need cover for and while this may cost extra, it ensures that you will have coverage for these items.
4. Fill In Your Personal Details
On the next page, you will have to fill in all you personal details such as your name, address, email, and phone number.
5. Make Your Payment
The final step is to confirm all your details are correct and make your payment. You will also be able to sign up for your World Nomads account so that you can manage your policy online (including making claims).
When It Goes Wrong: How To Claim
Making a claim with World Nomads can be done online while you are still travelling. This is perfect for long-term travellers who aren't planning to return home for a long time.
Before you make a claim, though, you should ensure that you have all the correct documents and receipts so that the process will go as smoothly as possible.
You will then have to log into your account, select the "Make A Claim" button, and then follow the on-screen instructions.
Once you have made your claim, you can check how it is getting along by signing into your account and reading any messages that have been left for you.
If at any point you think you will need any extra help, you can always get in touch with World Nomads on their phone lines.
Are There Any Downsides?
If Cost Is The Only Issue You May Be Able To Get Cheaper Coverage Elsewhere
While World Nomads offer a great service, you may be able to find a cheaper place to get travel insurance.
Of course, the problem here is that while the amount you pay might be cheaper, the level of coverage may well be different. This could affect things like the excess you pay, the activities you are covered for, and whether you are covered for high-value items.
Having said this, there are certain situations, such as when you are already abroad, that it may be very hard to get an insurance plan from anyone other than World Nomads.
I Read Some Bad Reviews Online!
One thing you may notice when searching for travel insurance reviews online is that there can be a lot of bad reviews.
While this can certainly be alarming, it is important to remember that often bad reviews are simply due to the fact that:
a. Customers are more likely to leave a review if they have a bad experience
b. Many of the reviews are simply due to customers thinking that they are covered for things they aren't actually covered for.
While you should certainly not ignore bad reviews, what you could do is fully check your policy to ensure that you have coverage for everything you think you are insured for and get in touch with them if there are any issues.
Customer Reviews: What Are Other People Saying?
Now that we are talking about customer reviews, let's take a look at some real-life reviews from the incredibly popular review website Trustpilot. On Trustpilot, World Nomads has a respectable rating of three stars out of five from 415 customer reviews.
In terms of good reviews, most people seem happy with how easy it is to use the service and get in touch with people when needed. Many people spoke of how easy it was to make a claim and how the service is a great option for when you need to buy insurance when already abroad.
Reviews From People Who Made Claims
Review By Traveller

"Easy to contact, helpful and responsive about finding a hospital to get medical attention at. I filed my claim by uploading photos of the required documents while I was traveling and about a month later I got a check for the medical expenses."

Review By Lana

"I had a very good experience with staff of World Nomads – specifically because I had all of my claims reimbursed to a satisfactory degree."

Review By Tasha

"I have used World Nomads several times, and on the one occasion when I had to make a claim, they were fast, efficient, fair and with no quibbling. I would certainly recommend them, especially for people like me who are not resident in their own country, and so it is less easy to get cover."
As mentioned, there are some bad reviews. Some of the things these reviews focus on include struggling to get the documents required in order to make a claim (not really World Nomads' fault) and also that claims took longer than expected.
One thing to note is that all the reviews on World Nomads have a comment underneath from a World Nomads staff member. On the bad reviews, this often involves them either explaining the issue or telling the reviewer to get in touch for more help.
Conclusion
In conclusion, World Nomads offer an easy to use solution that is optimized for long-term travellers and backpackers. They offer the option to buy insurance outside your home country and extend your plan/make a claim while abroad.
The specifics offered on each plan will be slightly different depending on your country residence and should, therefore, be checked before you take a plan out. However, certain things like being able to add high-value items are available wherever you are from.
If you looking to buy insurance while abroad, World Nomads may be one of your only options. However, even if you are still in your home country their service is still well worth a look due to the comprehensive insurance policy that they offer.