World Nomads is a leading option for backpacker travel insurance; and to try and make things simpler they have two main options – Standard or Explorer – which you have to decide between.
But: Is it enough to get the cheaper, "Standard" coverage or should you pay the extra for "Explorer"?
And Standard can be a lot cheaper!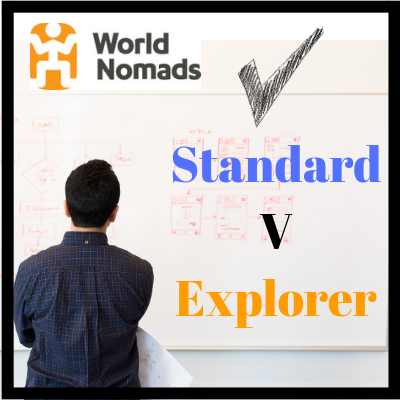 Especially when you add on those all important Activities, Sports and Adventures.
Here's why
One of the great features of World Nomads, is that the coverage tends to be very flexible especially when it comes to Activities, Sports and Adventures and High Value Items. Check out our review here to learn more.
This enables you to add on the things you want and leave off what you know you won't use.
The challenge is when you add on those extras after you choose Standard or Explorer – costs can be significantly less (for Standard) or significantly greater (for Explorer).
Also check out these World Nomads articles on what is covered and what is not (opens a new tab).
Which makes the first choice all the more important.
The Big Ones
It is important to note, that your residency, and the countries you are travelling to will change the terminology and coverage significantly.
However there are some fundamentals to consider.
Overseas Medical / Emergency Medical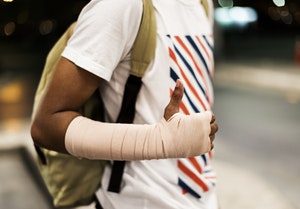 The big amount which for Standard starts at $5000 000 or £5000 000 (AUS, CAN and UK) and usually covers you for hospitals, ambulance and doctors for illness or injury. Explorer will usually double this amount or even make it unlimited. It is hard to imagine needing this extra coverage above Standard (although it is possible) it is also interesting to note that coverage for American residents is capped at $100 000.
However the are key differences in coverage that you might want to consider;
Emergency Dental
Physiotherapy
Chiropractor
Coverage for these might be important to you with Explorer usually offering quite a bit more coverage.
Emergency Medical and Repatriation
If you get really sick or injured and you potentially need medical evacuation to the nearest appropriate medical facility this can be really important coverage to have. For UK residents this appears to be covered in Emergency Medical where it says, "repatriation by air ambulance where medically necessary." For Australian and Canadian residents it is $500 000 which seems more than adequate for the Standard option. For Americans it is $300 000 for Standard and $500 000 for Explorer.
Cancellation Costs/ Trip Cancellation
Travel costs you incur due to sudden illness or serious injury, natural disasters, strike or lost passports. For Standard, coverage for these seems reasonable (but not huge) but Explorer this is usually double or more. Depending on the cost of your trip, this may be an important one to consider.
Others
Rental cars, funeral expenses, personal liability, baggage, sporting equipment and others are highly dependent on the country where you are resident.
Activities, Sports and Adventures and High Value Items are also potentially really helpful things to be adding on to your coverage.
How to decide what is right for you?
We have tried to highlight some of the most important things you may want coverage for but these are just our opinion and ultimately you need to consider what is important for you.
To do this, we recommend making a list of what is important to you in your coverage after you look at what is available for your country of residency.
Be sure to read all the terms and conditions so you understand what is and what is not covered by any insurance provider and see how well it matches your list of what is important.
These considerations should be able to inform your decision when it comes to picking the right travel insurance; however, the list is not exhaustive. Factors such as your preexisting conditions, your budget, and so on will also play a key role when it comes to selecting your best options insurance cover.
Understanding some of the terminology for Travel Insurance (wikipedia) can be helpful.
Final Word
Being covered for what you need but not paying for what you will never need is one of the most important aspects of buying the right insurance.
World Nomads will make it easy for you to select the best plan by inquiring about your personal details including your trip destination, your age, planned activities, duration of your travels, as well your country of residence; this makes it easy for them to provide you with a customized insurance cover.